Flagbearer of the New Patriotic Party (NPP) Nana Akuffo Addo has appealed to the people of James Town to support the NPP  win power from the NDC in 2016.
According to him, a win in the 2016 elections is the only way the NPP can end what he describes as the difficulties the country is currently going through.
Nana Addo, made the call at a ceremony to present items to the chief and the people of James Town ahead of the Homowo festival on Saturday.
He also urged the people to vote for the NPP parliamentary candidate for the Odododiodio constituency, Nii Lante Bannerman
"The delegates have voted for Nii Lante Bannerman to represent you and I have come to present him to you, calling for your support in the upcoming elections. The seat as you know has been ours and we want it back in 2016, we want you to know that when you help us, we'll make sure Ghana becomes a better place than what you are experiencing currently," he said.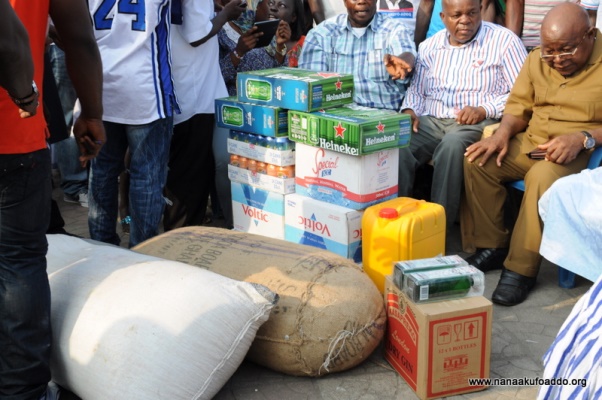 Mr. Nii Lante Bannerman secured 356 votes at the recently held parliamentary primaries to beat his contenders Reginald Okaidjah Bonte and Ahmed Nii Annan Tackie who secured 333 and 105 votes respectively.
Presently, Deputy Local Government and Rural Development Minister, Nii Lantey Vanderpuye is the Member of Parliament for the Odododiodio constituency.
source: citifmonline.com