A series of deadly explosions tore through crowds at Istanbul's Atatürk international airport on Tuesday evening, leaving at least 28 dead and 60 injured in an attack which officials blamed on the Islamic State terror group.
The Associated Press cited an unnamed Turkish official who said that the death toll could be as high as 50.
Shortly before the blasts, assailants armed with AK-47 rifles were involved in an exchange of gunfire with security guards outside the airport's international terminal, according to officials. The gunmen then detonated what are believed to be suicide bombs.
Shortly before the explosions, one of the gunmen opened fired at random as he walked through the terminal, a witness told Reuters.
"He was just firing at anyone coming in front of him. He was wearing all black. His face was not masked. I was 50 metres away from him," said Paul Roos, 77, a South African tourist on his way back to Cape Town with his wife.
"We ducked behind a counter but I stood up and watched him. Two explosions went off shortly after one another. By that time he had stopped shooting," Roos said.
"He turned around and started coming towards us. He was holding his gun inside his jacket. He looked around anxiously to see if anyone was going to stop him and then went down the escalator … We heard some more gunfire and then another explosion, and then it was over."
Footage from a security camera circulated on social media purported to show the moment one of the attackers was shot by a security guard. The footage, which could not be verified, shows the assailant dropping what appears to be an assault rifle before collapsing to the floor. Second later, he appears to activate a suicide bomb.
"There were the sounds of gunfire, it was like thunder, then there was a fireball everywhere," a taxi driver, named as Fatih, told CNNTurk. "My front window blew out, the car in front of me was turned into scrap."
Fatih said that at the very most two minutes passed between the sound of the gunfire and the explosion.
President Recep Tayyip Erdoğan called on all governments to join forces against terror, and called on other countries – especially Western countries – to take a "firm stand against terror".
"The bombs that exploded in Istanbul today could have gone off at any airport in any city around the world. Make no mistake: For terrorist organizations, there is no difference between Istanbul and London, Ankara and Berlin, Izmir and Chicago or Antalya and Rome," he said in a statement.
"Unless all government and the entire mankind join forces in the fight against terrorism, much worse things than what we fear to imagine today will come true."
Details of the carnage emerged slowly, and reports from differing official sources often conflicted each other on key details.
Preliminary reports suggested that at least 10 people were killed in the attack, justice minister Bekir Bozdağ told parliament in Ankara, while a spokesperson for the Istanbul police told the Guardian that "a bomb exploded at the airport and there are many casualties".
Bozdağ also mentioned reports of a separate blast at the entrance to the airport station, but offered no further details.
"I harshly condemn those who executed this terrorist attack, and those who gave the orders for it," Bozdağ told parliament. He added that he had information concerning the terrorist group responsible for the attack, but said that he would not share it until it was confirmed.
Bozdağ said that the attackers used AK-47 assault rifles in their initial attack. A picture of what appears to be an AK-47 rifle on the floor was being circulated on social media on Tuesday night, as well as what appeared to be chillingly clear security footage of one of the explosions.
Later on Tuesday night, the governor of Istanbul, Vasip Şahin, told local media just after midnight local time that the death toll had risen to 28.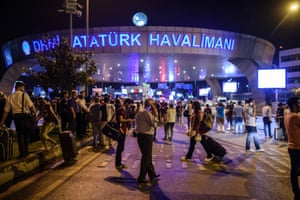 Turkish authorities issued a broadcast ban on the attack, and Erdoğan held an emergency meeting with prime minister Binali Yıldırım and military commanders on Tuesday night.
There was no immediate claim of responsibility for the blasts, though some Turkish media quoted security sources saying that Isis was behind the attacks.
Turkey has been on high security alert after a string of terrorist attacks. Two deadly bombings in Istanbul earlier this year were blamed on Islamic State jihadis.
In early June a car suicide bomb killed 12 people in the central Vezneciler district of Istanbul in an attack claimed by radical Kurdish militants.
Source: The Guardian