John Evans Fiifi Atta Mills (21 July 1944 – 24 July 2012) was a Ghanaian politician and legal scholar who served as President of Ghana from 2009 to 2012.
He was inaugurated on 7 January 2009, having defeated the ruling party candidate Nana Akufo-Addo in the 2008 election. Previously he was Vice-President from 1997 to 2001 under President Jerry Rawlings, and he stood unsuccessfully in the 2000 and 2004 presidential elections as the candidate of the National Democratic Congress (NDC). He is the first Ghanaian head of state to die in office.
EARLY LIFE
Mills was born on 21 July 1944 in Tarkwa, in the Western Region of Ghana. A member of the Fante ethnic group, he hailed from the town of Ekumfi Otuam in the Mfantsiman East constituency of the Central Region of Ghana.
He had his primary and middle school education at Huni Valley Methodist Primary School and Komenda Methodist Middle School respectively.
He then proceeded to the prestigious Achimota School for his secondary education, where he completed the Ordinary and Advanced-Level Certificates in 1961 and 1963 respectively, and the University of Ghana, Legon, where he completed a bachelor of law degree, LLB and a professional law certificate in 1967.
Mills studied at the London School of Economics and Political Science where he obtained an LLM in 1968 and earned a PhD in Law at the Law School of the School of Oriental and African Studies, University of London part of the federal University of London after completing his doctoral thesis in the field of taxation and economic development in 1971 at the age of 27.
Even during his career in politics, he was sometimes called by the nickname The Prof, a reference to his long academic career. His political supporters also called him Asomdweehene meaning 'King of Peace' in the Akan language.
EARLY CAREER
Mills' first formal teaching assignment was as a lecturer at the Faculty of Law at the University of Ghana. He spent close to twenty-five years teaching at Legon and other institutions of higher learning. In 1971, he was selected for the Fulbright Scholar programme at Stanford Law School in the US.
He returned to his homeland, Ghana, at the end of the international educational exchange fellowship to work at his alma mater, the University of Ghana, for 25 years.
He became a visiting professor at Temple University (Philadelphia, USA), with two stints from 1978 to 1979, and 1986 to 1987. He was also a visiting lecturer at Leiden University in the Netherlands from 1985 to 1986. During this period, he authored several publications relating to taxation during the 1970s and 1980s.
Outside of his academic pursuits, Mills was the Acting Commissioner of Ghana's Internal Revenue Service from 1988 to 1993 under President Jerry John Rawlings, and the substantive Commissioner from 1993 to 1996. By 1992, he had become an Associate Professor of Law at the University of Ghana.
In 2002, he was a visiting scholar at the Liu Institute for Global Issues at the University of British Columbia in Vancouver, Canada through a joint Canadian International Development Agency (CIDA) – International Development Research Centre (IDRC) fellowship programme
POLITICS
For the inaugural presidential election in 1992, the National Convention Party (NCP) had formed an alliance with the National Democratic Congress (NDC). Former Provisional National Defence Council (PNDC) Chairman, and leader of Ghana, Flight-Lieutenant Jerry John Rawlings chose the NCP leader, Kow Nkensen Arkaah, as his running-mate for vice-president. Having been elected in the 1992 election, Arkaah served between 1992–1996.
However, on 29 January 1996, the NCP broke with the NDC. Arkaah with the National Convention Party formed the Great Alliance with the New Patriotic Party and was subsequently nominated as the running mate of John Agyekum Kufuor to challenge the National Democratic Congress.
Rawlings selected Mills for the vacated Vice-Presidency in his bid for re-election to a second term in the election and was re-elected to his second term in office, serving from 1996 to 2000. In his capacity as Vice-President, he served as the Chairman of the Police Council of Ghana.
In 2000, Mills became the NDC's candidate for the 2000 presidential election after Rawlings had served his constitutionally mandated terms as president. The main rival for Mills' own bid for the presidency was John Agyekum Kufuor, who was running as the candidate for the opposition New Patriotic Party (NPP).
In the heat of the 2000 presidential campaign, Mills was roundly criticized for statements that if elected he would consult with Rawlings daily. In the first round, held on 7 December 2000, Mills gained 44.8% of the vote, Kufuor won the first round with 48.4%, thus forcing a second round. On 28 December 2000, Kufuor defeated Mills with 56.9% of the vote and was sworn in as president on 7 January 2001.
In December 2002, Mills was elected by his party to be its flag bearer and lead them into the 2004 election. He was, however, defeated again by incumbent president John Agyekum Kufuor, who received 52.45% of the vote on the first ballot.
On 21 December 2006, he became the NDC's candidate for the 2008 presidential election, winning his party's ticket by an 81.4% result (1,362 votes), far ahead of his opponents, Ekwow Spio-Garbrah, Alhaji Mahama Iddrisu, and Eddie Annan. In the 2008 election, John Agyekum Kufuor was no longer eligible to run as president, having served two terms. It was during this time that the term Better Ghana Agenda was coined. During the 2008 elections, in an attempt to change the public perception at the time that he would be a political lackey of his former mentor, Jerry Rawlings when elected, he distanced himself from his previous comments made in the 2000 campaign .
Mills' main opponent from the New Patriotic Party was now Nana Akufo-Addo. Mills ran under the campaign slogan of "A Better Man for a Better Ghana," on a platform of change. He said: "People are complaining. They're saying that their standard of living has deteriorated these past eight years. So if Ghana is a model of growth, it's not translating into something people can feel."
The result of the first ballot had Akufo-Addo in front with 49.13% of the vote to Mills' 47.92%, however, a run-off second round of voting was needed. The second round of voting took place on 28 December 2008. The result was a slim lead held by Mills, but due to problems with the distribution of ballots, the Tain constituency, located in the Brong-Ahafo Region, was forced to vote again on 2 January 2009.
The final result was a victory by Mills with 50.23% of the vote to Akufo-Addo's 49.77%. Mills became the third president of the 4th Republic of Ghana.
Self-described as a social democrat who believed in the concept of social welfare espoused by Kwame Nkrumah (independent Ghana's first leader), Mills embraced a political platform that was more comprehensive and less divisive than that of either Nkrumah or Rawlings. His persistence and determination paid off when he won the 2008 presidential pol
PERSONAL LIFE
He was married to Ernestina Naadu Mills (née Botchway), an educator, and had a son, Sam Kofi Atta Mills. He was raised a Protestant in the Methodist tradition. He was a good friend to T. B. Joshua of The Synagogue, Church of All Nations in Lagos, Nigeria and regularly visited his church. He said, following his inauguration, that Joshua had prophesied that it would take him three elections to win the presidency and that the result would be released in January.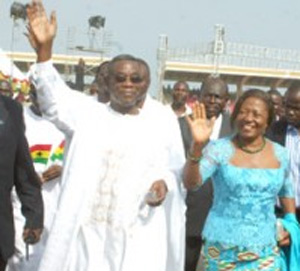 As a sports administrator, he contributed to the Ghana Hockey Association, National Sports Council of Ghana, Ghana Olympic Committee and Accra Hearts of Oak Sporting Club.
He was one time the chairman. He enjoyed field hockey and swimming, and once played for the national hockey team (he remained a member of the Veterans Hockey Team until his death)
He was also a board member of Hearts of Oak, the former chairman of the Black Stars management team and a Manchester United fan.
OTHER ACTIVITIES AND PROJECT
Mills was involved in various activities and projects:
He was a member of the Ghana Stock Exchange council.
In 1988, he became the acting commissioner of the Internal Revenue Service of Ghana and was named national tax commissioner in September 1993.
He also held examiner positions with finance-related institutions in Ghana, including the Institute of Chartered Accountants, Institute of Bankers, and Ghana Tax Review Commission.
He served on the Board of Trustees of the Mines Trust.
He was a member of the Management Committee of the Commonwealth Administration of Tax Experts, United Nations Ad Hoc Group of Experts in International Cooperation in Tax Matters and United Nations Law and Population Project
He led a study on equipment leasing in Ghana.
He chaired the casebook preparation on Ghana's income tax.
He oversaw the Review of Ghana's Double Tax Agreement with the UK.
ILLNESS AND DEATH
Mills died on 24 July 2012 at the 37 Military Hospital in Accra, three days after his 68th birthday. Though the cause of death was not immediately released, he had been suffering from throat cancer and had recently been to the US for medical reasons.
Announcing his death, his office noted that he died hours after being taken ill, but a presidential aide said that he had complained of pains the day prior to his death. However, Mills' brother, Dr. Cadman Mills later disclosed during the graveside service that he had died from a massive hemorrhagic stroke.
According to the BBC, his voice had degenerated in the previous few months. Former minister Elizabeth Ohene said that as a result of previous false reports of his death, she had not believed initial claims of his actual death. "For the past three or four years, there's been news he's been unwell and rumours of his death – twice – and he appeared with grim humour to say they were exaggerated, insisting he was well."
His vice president John Dramani Mahama was sworn in at about 20:00 GMT on the same day. In accordance with Ghana's constitution, Mahama's tenure expired at the same time Mills' was due to end, by the end of the year just prior to an election, in which he was due to run.
Mahama said upon being inaugurated in parliament:
This is the saddest day in our nation's history. Tears have engulfed our nation and we are deeply saddened and distraught. I never imagined that one day that it would place our nation in such a difficult circumstance. I'm personally devastated, I've lost a father, I've lost a friend, I've lost a mentor and a senior comrade. Ghana is united in grief at this time for our departed president.
SELECTED WRITINGS
Mills' more than one dozen publications included:
Taxation of Periodical or Deferred Payments arising from the Sale of Fixed Capital (1974)
Exemption of Dividends from Income Taxation: A Critical Appraisal (1977)
Report of the Tax Review Commission, Ghana, parts 1 – 3 (1977)
Ghana's Income Tax Laws and the Investor (1978)
Ghana's New Investment Code: An Appraisal (1993)
Africa in the World (2002)
NEPAD and New International Relations (2002)
The Decline of a Regional Fishing Nation: The Case of Ghana and West Africa (2004)
References:
Wikipedia
Ghanaweb