Two New Patriotic Party (NPP) aspirants  in the Klottey Korle constituency, Philip Addison and Nii Adjei Tawiah have boycotted the party's primaries in the area.
Lawyer Addison particularly has been incensed by an order from the party headquarters which okayed the elections for today [Sunday], even though according to him, there had been a meeting on Friday which scheduled the elections for a later date.
Mr Addison and his supporters were at the NPP headquarters to protest today as the election process begun in the constituency.
He subsequently in an interview with Citi News' Franklin Badu Jnr declared: "I am boycotting the election because it's a sham. There is lack of transparency so there is no confidence in the process."
Nii Adjei Tawiah also speaking to Franklin Badu Jnr accused the General Secretary of the party Kwabena Agyepong of "manupulating the election to favour one candidate."
He added that, "We don't even have our accreditation so why should I be here? Every thing is unfair," he stated.
Addison said: "All the delegates who are supporting me and Nii Adjei Tawiah should make sure that nobody comes inside the building to vote, we are saying nobody will vote, let the police shoot everybody" charging his supporters to stand firm and resist any attempt to conduct the polls.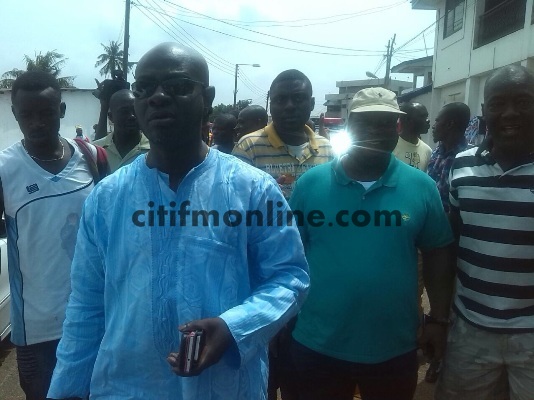 In a related development, a supporter of Philip Addison has been arrested for inciting violence.
It took the combined efforts about 6 policemen to arrest the heavily built man.
source: citifmonline.com