Officials from the Ghana National Fire Service have confirmed to Citi News that over 96 bodies have been retrieved from the debris of the GOIL filling station at the Kwame Nkrumah Circle in Accra which was gutted by fire on Wednesday evening.
Deputy Public Relations Officer of the Ghana National Fire Service, Prince Billy Anaglatey confirmed  this to Citi News' editor, Richard Mensah.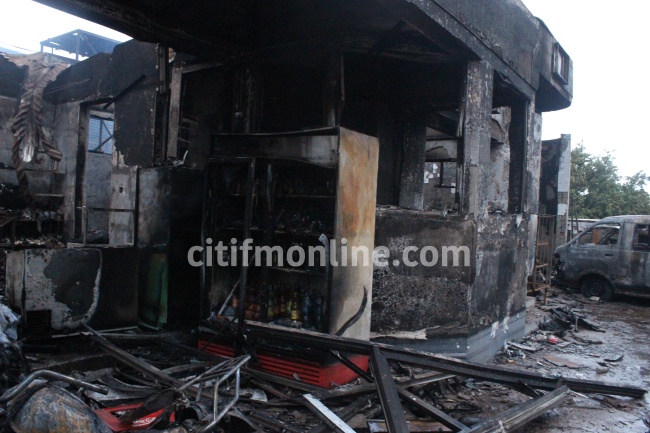 According to Richard Mensah, who was reporting from the scene of the incident, a few of the bodies were recovered from parked cars at the station.
President Mahama has arrived at the scene and it is expected that he will address the media shortly.
Fire service personnel reportedly struggled to fight the blaze as a result of last night's heavy downpour which caused heavy traffic in the capital and restricted the ability of the fire trucks to get to the fire.
A few people who survived the flames were taken to the hospital for treatment.
The Fire service has since been able to put out the fire and officers from the police and the military are at the scene to ensure calm.
There are also seven ambulances at the scene to convey the injured and the deceased to nearby hospitals.
Reports indicate that four more bodies have been retrieved at the scene.
The 37 Military hospital where many victims of the fire had been taken for treatment is reportedly full and cannot take any more people.
Credit:citifmonline.com