Leonardo DiCaprio has finally won his first Oscar for survival epic The Revenant, after six nominations.
He was named best actor at the 88th Academy Awards, with Brie Larson named best actress Oscar for Room.
Spotlight took home the best picture Oscar with Mad Max: Fury Road picking up the most awards of the night, with six accolades.
Mark Rylance won the best supporting actor Oscar, with fellow Briton Sam Smith winning best original song.
Among the winners for Mad Max: Fury Road – nominated for 10 Oscars including best director for George Miller – was British designer Jenny Beavan, for best costume design.
The Revenant won three of the 12 awards for which it was nominated.
Alejandro Inarritu also won best director and Emmanuel Lubezki won his third Oscar for cinematography in a row, having won in 2015 for Birdman and 2014 for Gravity.
DiCaprio received a standing ovation as he picked up his award, after five acting nominations and one nomination as producer of best picture nominee Wolf of Wall Street.
He thanked the director and co-star Tom Hardy for his "fierce talent on screen" and "friendship off screen" before campaigning for action to combat climate change, saying making The Revenant was "about man's relationship to the natural world".
"Climate change is real – it is happening right now," said DiCaprio. "It is the most urgent threat facing our species, and we need to work collectively together and stop procrastinating."
He asked the audience to "support leaders around the world who do not speak for the big polluters or the big corporations but who speak for all of humanity, for the indigenous people of the world, for the billions and billions of underprivileged people who'll be affected by this".
He added: "Let us not take this planet for granted. I do not take tonight for granted."
It is 22 years since he was first nominated for an Academy Award, having been nominated for best supporting actor for What's Eating Gilbert Grape.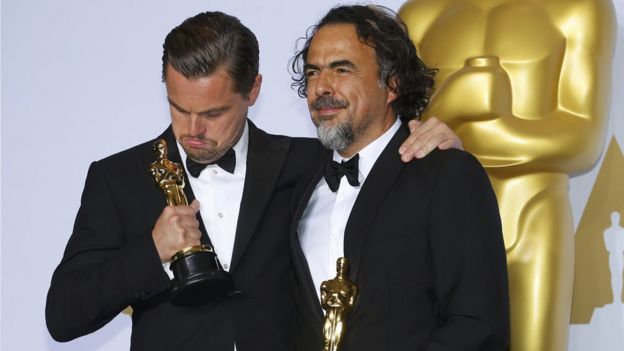 As he accepted his award, Inarritu said it was a "great opportunity to our generation to liberate ourselves from all prejudice", saying the colour of someone's skin should be "as irrelevant as the length of their hair".
It is the fourth Oscar for Inarritu, having won best director, best original screenplay (as co-writer) and best picture (as producer) for Birdman in 2015.
Larson had won praise for her role as abducted woman Ma in Room, based on the book by Emma Donoghue.
The actress thanked everyone involved in the film, including young co-star Jacob Tremblay, who plays her son.
She said: "The thing I love about movie making is how many people it takes to make it. Thank you to the moviegoers for going to the theatres and seeing our films."
'Restore the faith'
Spotlight tells the true story of how investigative reporters at the Boston Globe uncovered child abuse by Catholic priests in Massachusetts.
Producer Michael Sugar said: "This film gave a voice to survivors and this Oscar amplifies that voice.
"We hope will become a choir that will resonate all the way to the Vatican.
"Pope Francis, it's time to protect the children and restore the faith."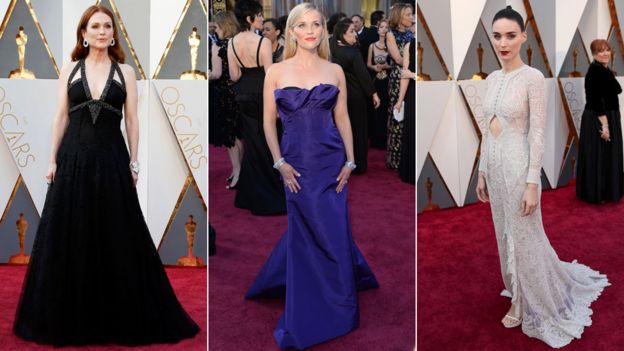 Rylance won his Oscar for Steven Spielberg's Cold War film Bridge of Spies, in which he plays Rudolf Abel, the real-life Soviet intelligence officer who was arrested in 1950s New York and prosecuted as a spy.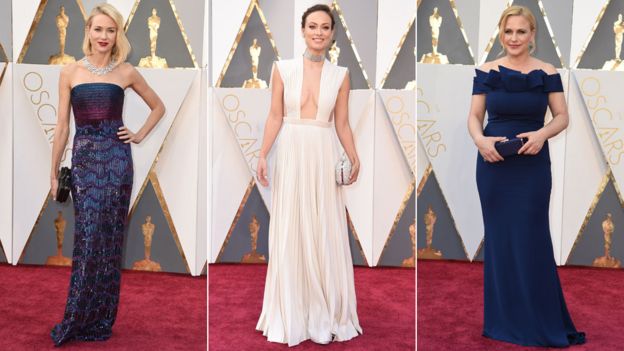 He said: "I've always just adored stories, hearing them, seeing them, being in them.
"So, for me to have the chance to work with one of the greatest storytellers of our time, Steven Spielberg, has just been such an honour."
Rylance, who beat off competition from Sylvester Stallone, Mark Ruffalo and fellow Brits Christian Bale and Tom Hardy, added: "It's a wonderful time to be an actor and I'm proud to be part of it."
Smith, whose song was featured in Bond film Spectre, told the audience at LA's Dolby Theatre he could not breathe as he picked up his award and described his fellow nominees as "incredible".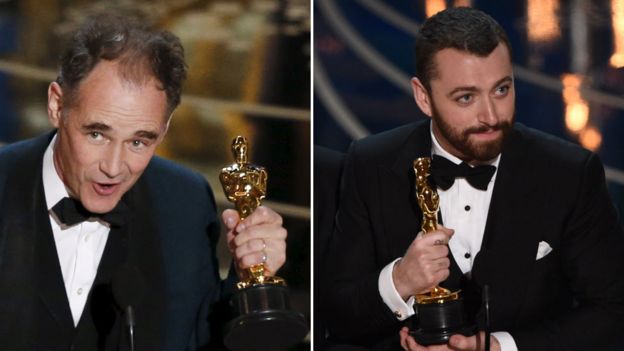 Smith, who won the award jointly with composer Jimmy Napes, added: "I read an article by Sir Ian McKellen saying no openly gay man had ever won an Oscar.
"If this the case, even if this isn't the case, I'd like to dedicate this to all the LGBT [lesbian, gay, bisexual and transgender] community around the world.
"I stand here tonight as a proud gay man and I hope we can all stand together one day."
Alicia Vikander won the best supporting actress Oscar for The Danish Girl.
The Swedish-born actress thanked her co-star, British actor Eddie Redmayne, and her parents, after winning her first Oscar, saying: "Eddie, thank you for being the best acting partner. I could never have done it without you. You raised my game.
"My mum and dad, thank you for giving me the belief that anything can happen – even though I would never have believed this."
She had faced competition from Kate Winslet, Rooney Mara, Rachel McAdams and Jennifer Jason Leigh.
Beavan, who had picked up the Bafta for her costume design on Mad Max, collected her award by saying: "What another lovely day!".
The film also won Oscars for production design, make-up and hairstyling, film editing, sound editing and sound mixing.
Wearing a leather jacket with rhinestone detail on the back and a striped scarf, she said: "It was a year of our lives in the Namibian desert, we had the most amazing crew.
"It was an incredible experience but it could be horribly prophetic, Mad Max, if we aren't kinder to each other and don't stop polluting our atmosphere. So, you know, it could happen."
Amy film 'for fans'
Amy Winehouse documentary Amy won the best documentary feature Oscar for British filmmakers Asif Kapadia and James Gay-Rees.
Kapadia said of the late singer: "This film is about Amy and showing the world who she really was, not the tabloid persona. We just wanted to make a film to show the world who she really was."
Gay-Rees added: "This is for the fans who loved her through thick and thin, that's all she ever needed."
Composer Ennio Morricone won the Oscar for best original film score for The Hateful Eight. It is the first Oscar that the 87-year-old has won.
He dedicated the award to his wife, Maria.
Irish director Benjamin Cleary won the best live action short Oscar for Stutterer, which is about a man with a severe stammer.
The best foreign language film Oscar went to Hungarian film Son of Saul. It tells the story of a Jewish man forced to work at a Nazi death camp who seeks a proper religious burial for a boy who he believes is his son. It was Hungarian-French director Laszlo Nemes' first full-length film.
Lady Gaga was given a standing ovation for her performance of Til it Happens to You from The Hunting Ground, for which she was nominated for best original song.
The singer, who was introduced by US vice president Joe Biden, was joined on stage by survivors of sexual abuse. Many of the audience members appeared to have been moved to tears by the song.
Smith, The Weeknd and Dave Grohl also performed during the Hollywood ceremony.
'Is Hollywood racist?'
The ceremony was boycotted by some Hollywood figures protesting about the lack of ethnic diversity among this year's nominees. All 20 nominees in the best acting or supporting acting categories are white.
Host Chris Rock launched the show by addressing the race controversy head on.
He commented he had "counted at least 15 black people" in the montage that opened the ceremony, before welcoming people to the "white People's Choice awards".
"You realise if they nominated hosts, I wouldn't even get this job," he quipped. "Y'all would be watching Neil Patrick Harris right now."
Rock added: "Everyone wants to know is Hollywood racist? You have to go at it the right way. Is it burning-cross racist? Fetch-me-some-lemonade racist? No.
"It's a different kind of racist. Is Hollywood racist? You're damn right it's racist but it's sorority racist."
Source: BBC