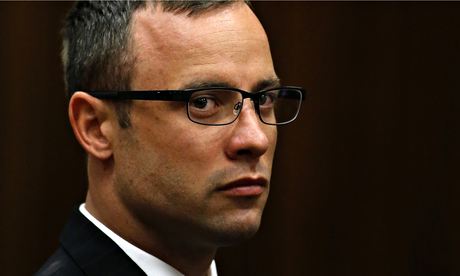 With a judge seeking to strike a balance between mercy and retribution, Oscar Pistorius, the South African track star, was sentenced Tuesday to five years in prison for killing his girlfriend, Reeva Steenkamp.
The athlete's defense team said the law under which he was punished calls for him to serve only one-sixth of the prison term — 10 months — before he can be placed on house arrest. He was also given a suspended three-year term on separate firearms charges.
Ms. Steenkamp's family said it was "satisfied" with the ruling, although the National Prosecuting Authority said it had not yet decided whether to appeal.
"I'm just glad it's over," June Steenkamp, the victim's mother, told reporters outside the courtroom.
Mr. Pistorius's family said it was not planning to appeal.
After a trial that opened in March and that was initially set to run three weeks, Mr. Pistorius seemed impassive as Judge Thokozile Matilda Masipa ordered him to rise to hear his sentence.
 Just before he descended the courtroom steps to the holding cells at the North Gauteng High Court in Pretoria, the South African capital, he clasped the hands of relatives but showed little emotion. Earlier in the trial, there were times when he wailed, wept and vomited.
Virtually since the moment of the shooting, Mr. Pistorius has been free on bail, living in the luxurious mansion of his uncle Arnold Pistorius. But for now, Martin Hood, a South African lawyer, told Sky News, Mr. Pistorius is a sentenced prisoner and will spend the night in a cell at Pretoria's main prison.
"It's going to be a cold, harsh reality for him tonight," Mr. Hood said.
Live television images showed Mr. Pistorius being driven away from the courtroom in a police van with officers in bulletproof vests hanging from the rear.
In September, Judge Masipa found Mr. Pistorius, 27, guilty of culpable homicide — equivalent to manslaughter — and of several firearms offenses. But she acquitted him on more serious murder charges.
The prosecution had sought a 10-year jail term, while the defense had requested that he be placed under house arrest for three years and perform community service.
The disabled athlete has admitted killing Ms. Steenkamp, 29, on Feb. 14, 2013, but he said he did so by mistake, firing four rounds from a handgun through a locked toilet cubicle door in the belief that an intruder had entered his home.
Judge Masipa spent 65 minutes summing up her decision before telling the athlete, "Mr. Pistorius, please rise."
Quoting at length from legal precedents, Judge Masipa said her sentence was "about achieving the right balance — proportionality."
She was critical of the testimony of two defense witnesses, who had recommended a sentence of house arrest with community service. But she praised the testimony of Zach Modise, a senior prison services officer who said that South African prisons were equipped to deal with a disabled inmate's needs.
Judge Masipa said a long sentence would lack "mercy," while a more lenient sentence would "send the wrong message to the community."
At the same time, she said, "the courts do not exist to win popularity contests."
"It would be a sad day for this country if an impression was created that there is one law for the poor and disadvantaged and another for the rich and famous," she said.
"Righteous anger," she said, "should not cloud judgment."
Judge Masipa focused closely on the moment when, in the early hours of Valentine's Day last year, Mr. Pistorius rose from his bed, grabbed a handgun loaded with so-called Black Talon ammunition and fired four rounds.
Unlike similar cases involving negligence, she said, Mr. Pistorius knew that "someone was behind the door" and his "aim was to shoot the intruder." He was trained in the use of firearms, which imposed a "high degree of responsibility" on him.
"The toilet was a small cubicle. An intruder would have had no room to maneuver or escape," she said. Such was the degree of negligence that a noncustodial sentence "would not be appropriate," the judge said.
source : nytimes.com