Flagbearer of the opposition New Patriotic Party (NPP), Nana Akufo-Addo, is praying for the speedy recovery of victims in the deadly Wednesday night accident on the Kintampo-Tamale road.
About 40 persons lost their lives while scores were injured in the crash involving a Metro Mass Transit bus and a truck carrying tomatoes.
In a series of tweet on Thursday morning, Nana Addo consoled the families of those who lost their lives in the accident.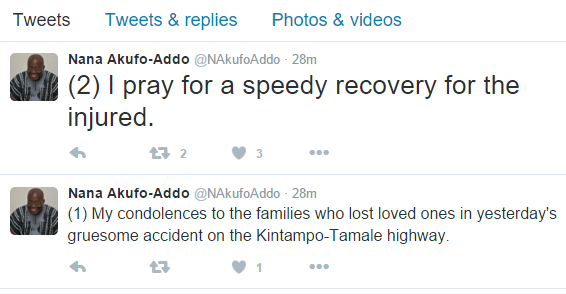 He tweeted: My condolences to the families who lost loved ones in yesterday's gruesome accident on the Kintampo-Tamale highway."
"I pray for a speedy recovery for the injured," he added. Reports say the Kumasi bound Metro Mass Transit (MMT) bus collided head on with the truck believed to be traveling from Navrongo.
Eyewitnesses say the engine of the MMT fell off from the bus due to the impact of the accident and trapped passengers underneath the bus. President John Dramani Mahama hours after the incident expressed grave concern in a tweet.
The President consoled the families of the departed souls in a series of tweets.
Source: citifmonlne