The Member of Parliament for the Manhyia North Constituency, Collins Owusu Amankwa, has written to the court asking them to drop all charges brought against the New Patriotic Party (NPP) Ashanti Regional Chairman, Bernard Antwi Boasiako, also known as Chairman Wontumi. In a letter written by counsel for the Manhyia North MP and their other client in the case, Felix Ibrahim, they indicated that their clients now intend to pursue an out of court settlement.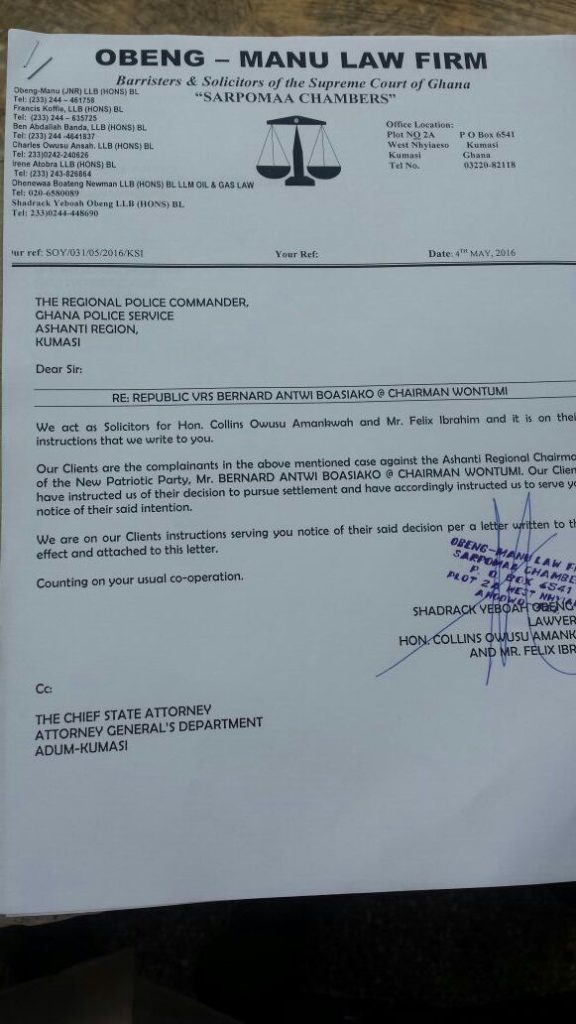 Chairman Wontumi is in the grips of the Ashanti Regional Police Command for allegedly assaulting Collins Amankwah and his Constituency Secretary, Collins Owusu.
The NPP Regional Chairman turned himself in to the Police on Tuesday after he was declared wanted by police following allegations of assault leveled against him by Mr. Amankwah and Mr. Ibrahim.
He was arraigned today before the Asokwa Magistrate court where he is reported to have pleaded not guilty to the charges.
Wontumi's arrest politically motivated
Some angry NPP supporters subsequently besieged the police command demanding NPP Chairman's release alleging that the arrested may have been orchestrated by President Mahama.
Although Chairman Wontumi's arrest involved an altercation with NPP members, the NPP also said his arrest was a ploy by political opponents.
They feel strings are being pulled by the NDC to have Chairman Wontumi behind bars so they can bend the rules in the ongoing limited voters' registration exercise.
In a statement signed by the party's Ashanti Regional Secretary, Samuel Pyne, the NPP said the arrest of Chairman Wontumi was "a clear distraction move by the NDC to make gains in the limited registration exercise."
Source: citifmonline.com