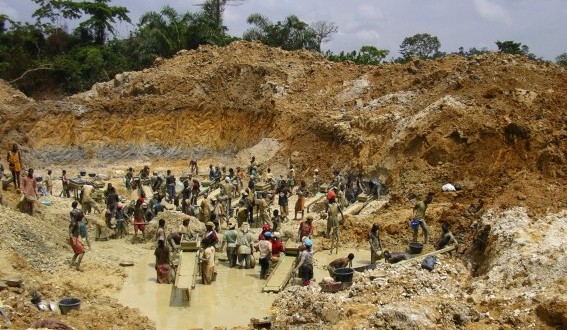 Northern Regional Commander of the Ghana Immigration Service, Eric Afari has revealed that illegal mining is getting out of control in the Bole district.
According to him, the illegal miners are well armed thereby making it difficult for unarmed security forces in the area to flush them out.
"It is a very difficult situation as we have it now: the galamsey persons over there are better armed than the security forces and if you look at the geography and the terrain of the area you will need to cross a river to get to the mining site."
"It was in one of those crossings that they came across an armed group that totally attacked them. In fact, there was an immigration officer who was also shot and he sustained serious gunshot wounds on the shoulder and as we speak now he is in Accra under treatment," he narrated.
Eric Afari called for a concerted effort to overturn the situation in the area.
"We all need to work together. It is a problem that one agency cannot tackle and we need the collaboration of all persons."
 Illegal mining is considered as one of the profitable economic activities in the Bole district. Apart from high school dropouts, illegal mining activities there attract armed robbers and commercial sex workers.
In an attempt to curb the threat, members of the Bole District Security Committee were recently attacked at gun point during which an army officer died.
This worrying situation according to the Northern Regional Director of the Ghana Immigration Service, Eric Afari warrants the need for security forces to handle weapons in the mining communities.
Source: Citifmonline