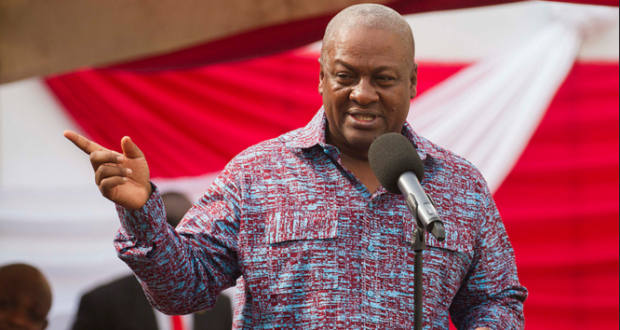 President John Mahama has indicated although his government has completed a number of infrastructure projects, sections of Ghanaians accuse wrongly like it happened to Kwame Nkrumah.
According to him, government's efforts at improving the lives of the citizenry will give it more advantage in the upcoming polls than the opposition New Patriotic Party (NPP).
"We have done sufficient… There are things that we have delivered. I feel very proud, sometimes I don't know we did it. You go to a community and the Chief is praising you to high heaven for some school or some clinic I didn't even know had been put there. But everywhere you go they say we see the development, we have a good road, we have enough water.
"In Brong Ahafo alone, there is water for more than 300,000 households in about 27 communities … There is a lot that has been done in every sector…There is a track record, there is a strong performance when it comes to development and infrastructure that we can defend. We will this election. I'm confident that we will win this election," said the President.
The President also charged his appointees to prepare for the heavy schedule ahead in the last year of his first term and also emphasized the need for a  carefully considered SWOT analysis to determine the way forward.
"What we must do and what I am thinking must come out of here is to have an analysis of what our strengths are and what are weaknesses are and to also look at what our opportunities and what the threats are and once we do that we come up with a road map on how we can all work together to ensure that we win 2016."
President Mahama also made reference to President Kwame Nkrumah's situation when he was accused by elements within the UP tradition of wasting resources.
"Nkrumah had done so phenomenally when it comes to infrastructure. He had just finished the Akosombo Dam. It was months after he had switched on Akosombo and the same opposition at the time said he had run Ghana into debt and that he had borrowed so much. Exactly the same accusations we are facing now …"
The retreat which is being attended by Vice President Kwesi Amissah-Arthur, Ministers and Deputy Ministers of State, Presidential Advisers and Staffers will offer government an opportunity to review strategies for the implementation of key policies earmarked in the 2016 Budget and other initiatives outlined for outdooring in the State of the Nation.
GCP based on files from Citifmonline.com