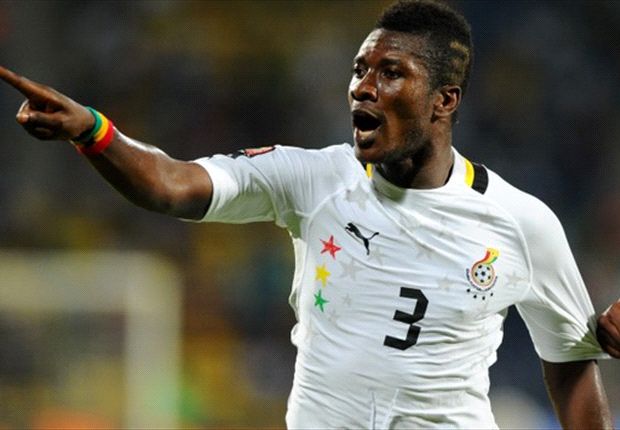 Ghana captain and top striker, Asamoah Gyan, says helping the Black Stars to achieve their dream of winning another African Cup of Nations (AFCON) in Equatorial Guinea is far more important to him than chasing personal achievement as top scorer at the tournament.
The Stars captain last Friday scored the goal that revived the team's campaign at the competition with a win against Algeria, having surrenderd their lead to lose 1-2 to Senegal in their opening game, which Gyan missed.
Having missed that opening game due to malaria, his return to score the vital goal last Friday further cemented his credentials as a very important player and one to watch at this tournament.
However, the captain played down the expectations, when he told the Graphic Sports that he was only carrying out his duty.
"I am here because I'm expected to help the team to win. My main job is to score goals and I'm glad that I'm able to do that. My focus is helping the team win than to chase personal records. What are records when your team cannot go all the way?" Gyan querried.
The manner in which Gyan scored the goal was not just dramatic, but it saved an entire nation from heartbreak, as all pointed to a draw against the Algerians.
The goal was reminiscent of the ones he scored in the Stars' 2-1 win against the USA at the 2010 World Cup in South Africa and also against Germany in their 2-2 draw at the Brazil 2014 World Cup.
The goal also consolidated the Al Ain striker's status as the all-time leading scorer of the Stars, but he downplayed that, insisting it was his responsibility to save the dream of the team.
"Important goal scorer?, That I cannot say but I have a responsibility to get the goals as a striker of the team and also do all within my means to get the team going as the captain and I feel obliged to do what I do," the striker, whose goal haul for Ghana has gone past the 40th mark, said.
He also credited the team for their fighting spirit and relentless effort, saying that won the day for the team more than his effort.
"It was a complete team effort, we had to fight on and everyone played his part. The credit is to all the team and not just the goal I scored," Gyan, now playing at his sixth AFCON since making his debut at Egypt 2006 as a teenager, told the Graphic Sports.
Coach Avram Grant, who showed some emotion by hugging his assistant, Maxwell Konadu, and his captain, described Gyan as "a great game changer and very important player to the team".
source : Graphic Online