Aggrieved youth of the La Traditional Area have accused the John Mahama-led government of neglecting Ga-Dangme people and allowing the Ghana Armed forces to illegally acquire their lands.
Addressing a press conference in Accra today [Monday], a group calling itself the Coalition of La Youth Association alleged that the Ghana Armed Forces has arbitrary destroyed farmlands without providing compensation and stolen their lands under the guise of creating buffer zones.
Addressing the press, the Chairman of the association, Augustine Nii Amoanai, gave the government a week to address their concerns over the Army's land acquisition or face their wrath.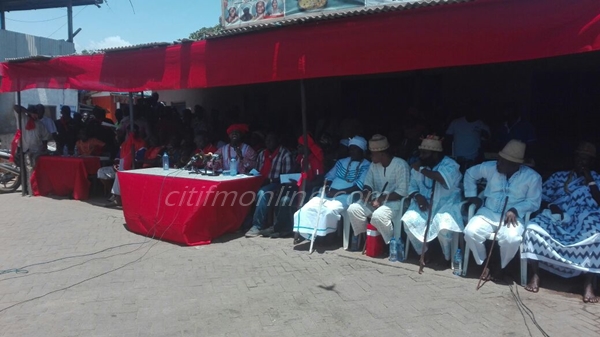 "We are by this statement giving government one week to act swiftly on these matters of despicable and gross neglect of the Ga Dangme people otherwise we shall advise ourselves accordingly."
According to the group, "with the connivance of the Ghana Armed Forces and the Lands Commission, Ga-Dangme lands have been plundered in an unprecedented manner."
Gov't hasn't done enough to protect lands
Mr. Amoanai insisted that President Mahama could have intervened and addressed their grievances as "a word from our President and Commander and Chief of the Ghana Armed Forces would have brought some order and sanity to bear in this unruly behavior of the military."
He warned that any society could lose its language, identity and existence when they are disposed of their lands and "this is exactly what the government is perpetuating on out land," adding that "we are more than convinced that at this moment, the government and its apparatchiks are bent on destroying the culture of our land."
The group also bemoaned the silence of influential Ga-Dangmes over concerns about their lands.
"Sadly enough, our brothers and sisters around and within the corridors of owner have lost their voices relative to issues affecting the Ga-Dangme people which silence we find as condoning the raw deal government is serving our people," Mr. Amoanai said.
Source: citifmonline