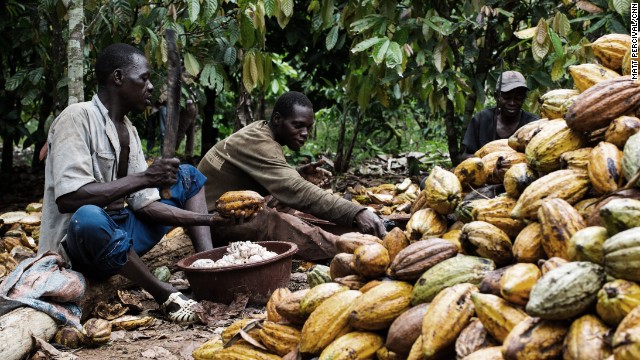 A poor cocoa harvest in Ghana has left the world's number-two producer struggling to fulfil sales contracts and is driving up the price of the commodity on global markets.
The unexpected fall in production, which farmers blame on a lack of pesticides and bad weather, could leave the world's leading chocolate makers short of beans and deal a fresh blow to the country's precarious finances.
Senior government sources now estimate Ghana's 2014/15 crop will not exceed 700,000 tonnes, far below industry regulator Cocobod's initial forecast of more than one million tonnes.
"There has been a crop failure, and the latest indication is that our best (output) is around 690,000-700,000 tonnes," a government source who declined to be identified told Reuters.
Ghana had a crop of about 900,000 tonnes in 2013/14.
"This year every farmer is crying," said Johnson Mensah, who serves as chief farmer for Western Region South, which has 174,000 cocoa farmers. "We haven't experienced a season like it in a long time."
European traders said the shortfall means Ghana might be unable to supply around 150,000 to 200,000 tonnes of cocoa it has sold, and may seek to roll those contracts forward to next season.
Ghana's cocoa is sold to international buyers by the state-owned Cocoa Marketing Company (CMC), a wholly-owned subsidiary of Cocobod. Cocobod did not respond to requests for comment.
"There are a lot of outstanding shipments still for everyone in the trade from the CMC," one European trader said.
Global cocoa prices have already begun to climb, with a smaller crop in Ghana likely to lead to a significant global deficit in the 2014/15 season. ICE London futures have risen about 5 percent in the last two weeks.
"A lot of people did not believe in a global deficit. It's only now when they factor in a 700,000 tonne Ghana crop that they will bank on a deficit — which could move the market another 100 pounds higher even after the recent rally," one trader said.
Supply shortage
A shortage of supply from Ghana could create serious problems for international traders and premium chocolate makers such as Lindt, whose recipes rely heavily on the world's top producer of high quality cocoa beans.
"The market has a problem in that nobody wishes to put the CMC in default," said Derek Chambers, head of the cocoa department at Paris-based Sucres and Denrees.
"It's one thing to roll 20,000 to 50,000 tonnes (worth of contracts) forward. It's another thing if it's 190,000 tonnes."
Some traders have been scrambling to buy any available Ghana cocoa stocks in Europe, and premiums for in-store bagged supplies have risen to around 200 pounds above London futures, compared with about 80 pounds a couple of months ago.
Ghana's economy grew rapidly for years as exports of its gold, cocoa and oil boomed, making it a magnet for investors who also liked its political stability; but the government now battles fiscal problems worsened by a fall in commodity prices.
The International Monetary Fund last month agreed an aid deal aimed at restoring economic stability. Ghana's cocoa is grown by smallholders who sell to companies such as Ecom, Olam and the state-owned Produce Buying Company.
"The crop for this season does not approach where we were in 2013/14," said cocoa buyer Joe Mends Aboah in Nyamkumam village, outside Enchi in western Ghana. He has purchased 280 64-kg bags of cocoa so far this season, down from 450 bags a year ago.
Aboah said the heavy rainfall between August and October had prevented cocoa trees from flowering. Other farmers complained about the scarcity and expense of fertilisers and pesticides.
Near his village of Ebikwawkrom, Bartholomew Ayador pointed out cocoa husks shrivelled by fungal black pod and a fat, red capsid bug feeding on a cocoa tree. "Look at that," he said angrily. "That is why the season hasn't been working."
The drop in production will cause hardship for growers, many of whom live in villages with little access to electricity, running water, schools and medical care.
Margaret Brenteu in Elubo village, near the border with Ivory Coast, said output on her 31-acre farm is down to 19 bags from 38 bags last season. Each bag fetches 350 cedis (US$91) under a government pricing system, and the deficit means she has been forced to take a loan to pay school-fees for the eldest three of eight children in her care.
"We are not happy. We are not getting enough money," she said — echoing a common complaint among farmers that the pre-set cocoa price is too low.
Source : Reuters