The 25-year-old graduate of the Kwame Nkrumah University of Science and Technology (KNUST), Nazir Nortei Alema, who left home to join the swelling ranks of the Islamic State (ISIS) in Iraq and Syria, a terrorist organization, has sent a message via Facebook to greet friends and family.
Nazir captured local and international news headlines in August, when news of his decision to join ISIS broke after his parents told Ghana's national security of his decision.
The National Security later confirmed the report and raised an alarm of an agency in Ghana that was targeting and recruiting young Muslims from tertiary institutions to join ISIS.
On Wednesday November 11, a message popped up on Nazir's Facebook wall. The message read "As-salaamu 'Alaikum, From The Islamic State, with Joy."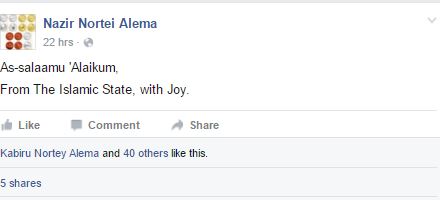 Some family and friends who responded to the post have confirmed he owns the account. According to them, it is the same account he used in Ghana before his sudden disappearance.
Nazir's Facebook post has so far received forty likes and sixty-three comments.
With a degree in Geography and Rural Development, Nazir Nortei Alema is one of the several suspected Muslim youth from Ghana believed to have joined the terrorist group, which has gained notoriety for public beheading of their opponents or those they regard as infidels, attracting a worldwide condemnation.
Nazir's trip to the training grounds of the so-called Islamic State, started on 2nd August 2015, soon after his completion of the mandatory National Service in Ghana, which he undertook at the Statistical Service.
Since August 2015, Nazir's family has not heard from him after he confirmed his ISIS membership via whatssap.
source: myjoyonline.com