Actress Lydia Forson has unusually jumped to the defence of President John Dramani Mahama, saying he should not be blamed for the use of GHC 3.6 million  of Ghana's oil revenue, to re-brand 116 Metro Mas Transit buses.
Government's decision to spend a whopping GHC 3.6 million on re-branding the buses, has angered many Ghanaians, with the majority questioning how that outrageous expenditure could be approved under the watch of the President.
A detailed pro-forma invoice for the re-branding of the buses, has revealed that stickers on each bus cost Ghc11, 000.
The pro-forma invoice dated 17th July 2015, and signed by the Accounts Officer of Smarttys Management and Productions and copied to the Ministry of Transport, put the total cost of branding for each bus at Ghc30,420.00.
Smarttys Management and Productions is owned by Selassie Ibrahim, an actress cum entrepreneur and TV personality.
But Lydia Forson, who has in recent times criticized strongly the performance of the President wrote on her blog that it is unfair to blame the President for the scandal since he has "bigger decisions to make… than decide what goes on government vehicles."
Below is her full post I really don't think it's fair to blame the president for this whole metro mass bus branding fiasco.
The man has bigger decisions to make , I would hope, than decide what goes on government vehicles.
However , he's an easy target, why? Because it's his face on the ballot paper. Not the minister, or government officials.
But we do expect that having voted him into power, he would be able to hire people capable of handling their jobs well, as they are a reflection of him.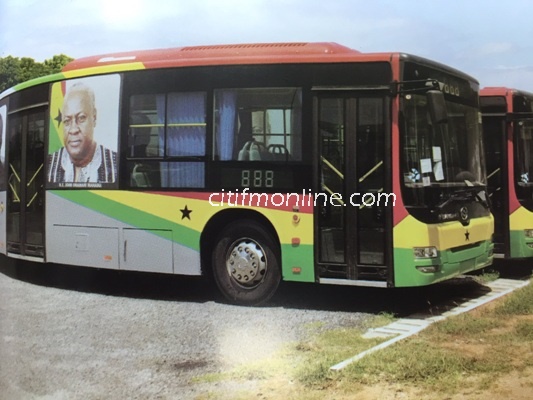 This incident is a clear indication that, a lot of times, people amongst us are part of what's really wrong with this country.
They are our friends, fathers, mothers colleagues, people with no government position yet have the connections and power to make decisions that directly affect us all.
They will sit with us and complain about the system and how bad things are, yet are part of the problem and not the solution.
They get away with it, why? Because they don't need our votes, they don't work for us the people, they don't have to be accountable to the nation and so on.
Nope, they're just individuals who happen to be lucky enough to work the system to their favour.
We are the problem with what's wrong with this country. Unless we change our general attitude, no president can come and save this country.
We need to hold civil servants, government officials , contractors etc and more accountable. They are the ones who remain long after presidents have gone.
The sad thing about all of this is, when given the same opportunity , most of you will do the same or worse.
I don't want to throw accusations at anyone, especially since I don't know all the facts. But should it be true that a fellow creative industry personality or so they claim, was behind this and actually cheated others, it would be extremely heartbreaking especially knowing how under paid the creative arts industry is already.
Because shouldn't a creative person know better when it comes to branding, advertising etc?
Here's the difference between a greedy business person and a smart one;
The "SMARTTYS " I mean "SMART" one would ask government for the contract to use the buses for advertisement. And then probably pay government a percentage of all profits made. Now you may not get your millions immediately, but when managed properly, it could easily become a lucrative business. And who knows in the future you could have your own buses solely for this purpose.
A greedy business person,is, well, errr, hmmm, let's see, a greedy person is, is, is, need to find the right word. Ah! Yes a greedy business person is just not SMART maybe?(can't write what I really wanted to, I'm changing…..or not)
They'd rather try to squeeze a million cedis for now, than think of the billions they can accumulate over the course of time.
And there I thought we had Smarttys, sorry I mean Smart people in this industry.
And yes that was shade….
*Pause*
Dear Mr. President,
Please don't speak on this matter, because you have more important things to focus on, I would hope. Leave this for the people you've appointed to get to the bottom of this. After all, this is what you put them there for. And if they can't handle this, then we will come for you.
Sincerely,
The girl you love to hate. ?
*Play*
Well th th th th that's all folks. And remember, it's never too late to get SMART. ?
Lydia Forson.
source: citifmonline.com