7. Permanent Hair Loss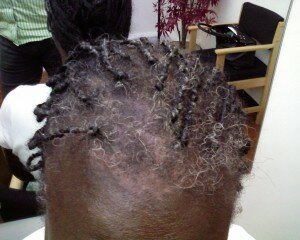 Permanent hair loss is not uncommon with the use of chemical hair strengtheners. What starts out as a burn and turns into a scab can ultimately end up being a permanent bald spot where your hair does not grow back. This is frustrating, not to mention embarrassing as you try to cover up the unsightly area. Permanent hair loss can also start out with an area of thinning and as time goes on the hair continues to fall out. The likelihood of permanent hair loss is increased with the use of hot combs, curling irons, and hair that is pulled tight by hair rollers.
Instead of applying harsh chemicals, try a natural method to straighten your hair. As crazy at it sounds fresh coconut can gradually straighten those kinky locks without the fear of damaging your hair. You simply blend fresh coconut with lime and refrigerate. This will create a creamy mixture. Rub this on your scalp and cover with a hot towel for about an hour and rinse with a mild shampoo. If you do this three times a week you will notice the kinks start to straighten out.