Perms and relaxers have been a long-time favorite of African American women promising silky straight hair for difficult to manage locks, but this beauty regimen comes at a high price – hair breakage, scalp irritation, stunted hair growth, and even permanent hair loss. Discover the top 10 reasons to avoid perms and relaxers and why you should stay away from them at all costs.
We all know there is an obvious difference between 'black' hair and other cultures. Some say kinky hair is a gift – you can wear it in so many different ways, but others call it a curse and have made the decision to permanently change the texture of their hair with the use of chemicals. I said permanently because once you add chemical relaxers or perms to your hair it is changed forever. There is no way to get back the natural wave pattern, even if you let the perm grow out. This is why the 'older generations' of African American women frown upon relaxing children's hair. They say it will stunt their hair growth and ruin their hair forever. Well, the same it true for adult hair.
Before we review the top 10 list, let's talk about the difference between perms and relaxers. A perm makes hair curly. This is also called a "Jerry Curl," or "texturizer," and used by African American men and women to create 'waves' on a short hair style. A relaxer, straightens the hair transforming the original curl pattern by loosening or relaxing the kinky texture. This is where the evolution of your hair takes place changing it from its original natural state to a lifelong process of having to reapply chemicals to maintain the same look each time causing more damage to your hair.
As odd as it sounds, the relaxer was actually invented by an African American man trying to create a product for a sewing machine shop back in 1910. He wiped his hand on a wool cloth and found that the chemical gave the cloth a smooth appearance. This must have been some kind of strong chemical to turn a cloth into a different texture. Did you know that this is the same chemical used to make drain cleaners to unclog sinks? It is even used to remove fur from animals in the leather making industry. And this is the same chemical that you want to apply to your precious hair? Are you really willing to risk the damage resulting from the use of chemical hair straighteners?
9. Hair Breakage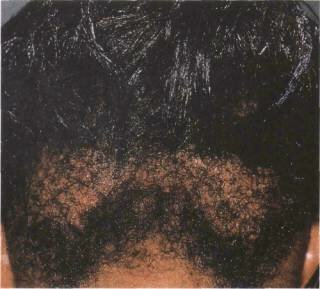 If you think using no lye relaxers are less damaging than those containing lye, think again. There are two basic types of chemical hair relaxers – Sodium Hydroxide (relaxers containing lye) and Guanidine Hydroxide (relaxers containing no lye). The manufacturers of these products want you to believe that no-lye relaxers will not damage your hair. This is simply not true.
The truth is those stunning pictures you see on the relaxer kits of black women with silky smooth hair are usually individuals who already have a good grade of hair. Don't be fooled into thinking a mere $10 for a home relaxer kit will give you the same look; it is not that simple. There is only one full proof method to avoid hair breakage from chemical relaxers and that is to avoid them. Relaxers permanently alter the natural pH balance and chemical breakdown of your hair. This process weakens each strand of hair. Hair breakage and scalp irritation are common side effects from relaxing or perming your hair and is not a solution for hair that is damaged despite what you may have heard.
Let's discuss a natural remedy for hair breakage using egg yolk and olive oil treatment. Applying one egg yolk and two tablespoons of olive oil to your hair while showering and rinsing with a mild shampoo is a home remedy that will help with hair breakage. You can use this remedy once a week and see a decrease in hair breakage. No chemicals, no burns; just positive results.