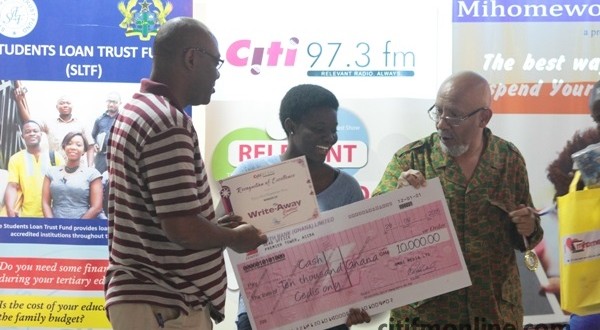 13-year-old Nana Akua Okyerewaa Ntim has been crowned the winner of Citi FM's 2015 Write Away contest.
Nana Akua takes home GHC 10,000. She attends East Airport International School in the Greater Accra region.
An elated Nana Akua , after receiving her award told Citi News : "I feel blessed and I feel really happy and proud of myself. I thought I was not going to do it but I just gave it no thought and went for it and here I am.I won and I really feel good about that."
The first runner up, Mansa Adwedaa from Ridge Church School will take home GHC 5,000 while the second runner up , Nana Aba Bentsi-Enchill from Faith Montessori School will be given 2,000.
The winners would also walk away with hampers from the sponsors to spur them on.
An Educationist and Chief Examiner of the contest Annis Hafar, said about 20 finalists were initially shortlisted and made to go through a vetting process to defend the essays they had written.
"We selected the top twenty and engaged with the young people to make sure they did the work and for them to tell me how they did the work. I was very enthused. They tell you the struggles they had to go through, how they developed the characters, how they developed the setting, and it was very fulfilling."
The Educationist also emphasized the need for teachers in the public schools to nurture their students to participate in subsequent contests.
"…We have to make sure that the next time around we get as many of the regions to participate as possible.The kids in the public schools are just as good as any and what they need now is a bit of training from teachers, a bit of traning from the heads themselves and also the moral support."
Participants in this year's contest were made to write their own short stories, with their own unique characters which ended with the phrase "But Alas! When elephants fight, it is the grass that suffers."
Top Ten finalists in no particular order
The top ten finalists are below
– Christabel Hammond – East Airport International School
– Betty Isabella Boamah – Atropolis
– Nana Afia Okyerewaa Ntim – East Airport International School
– Agbeleze Catherine Zatornam – Redco M/A 1 Primary School
–  Craig Setor Nafrah – Queensland International School
– Mansa Adwesaa – Ridge Church School
–  Hannah Yeboah – Beacon School
–  Antoinette Esenam Akuamoah – Akosombo Internal School
–  Nana Aba Bentsi-Enchill – Faith Montessori School
Source:citifmonline.com